The "Conductor – resident" program initiated by the Institute of Music and Dance aims to present and promote young Polish conductors and enable them to debut and acquire performance practice in contact with a professional orchestral ensemble. Agata Zajac is the conductor-resident of the Torun Symphony Orchestra in the 2020/2021 season.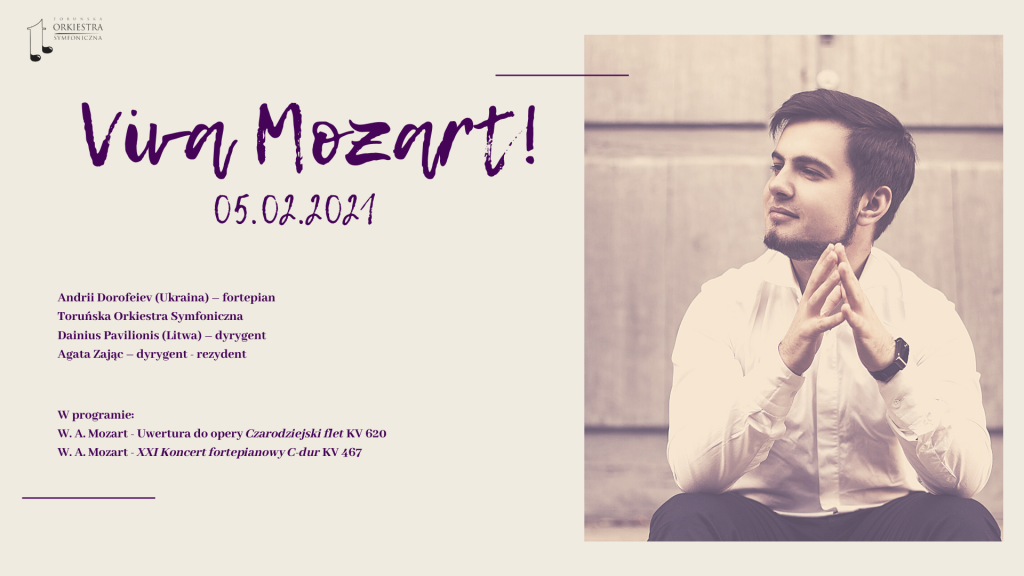 Main Patron: Torun City Commune
Strategic Patron: Nova Trading S.A.
Patron of Culture – Main Sponsor: PGE Energia Ciepla S. A.
The concert is co-organized and co-financed as part of the program of the Institute of Music and Dance
"Conductor – resident"
Organizer: Torun Symphony Orchestra
The institution is financed by the Torun City Commune
Artists:
Andrii Dorofeiev (Ukraine) – piano
Torun Symphony Orchestra
Dainius Pavilionis (Lithuania) – conductor
Agata Zajac – conductor-in-residence
Programme:
W. A. Mozart – The Magic Flute KV 620 Overture (conductor – Agata Zajac)
W. A. Mozart – Piano concerto No. 21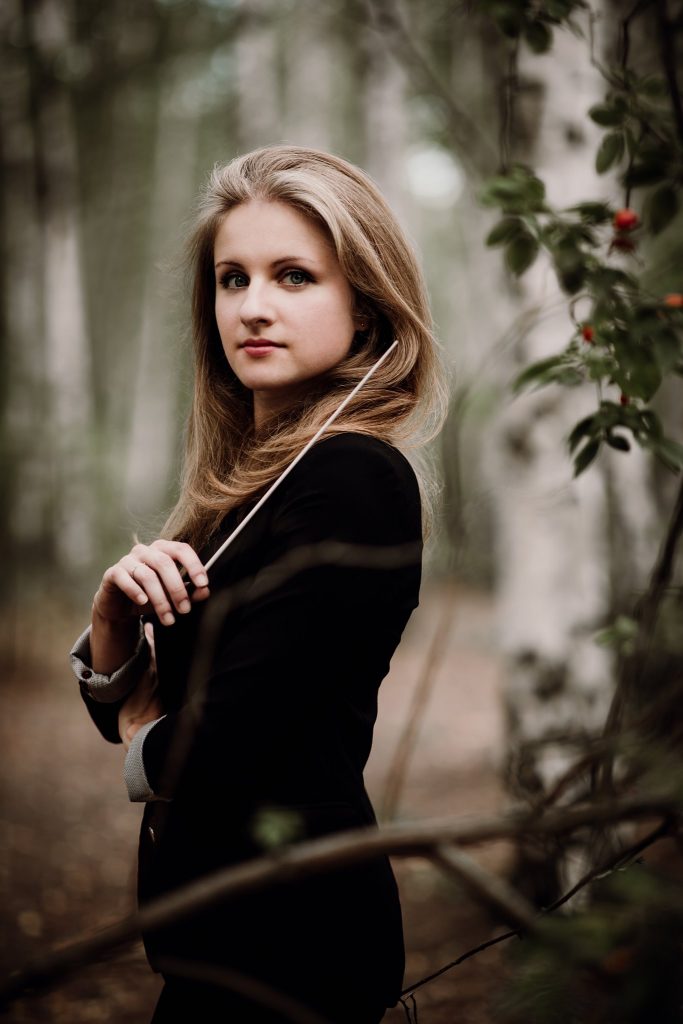 Agata Zajac honed her skills at several courses conducted, among others, by Peter Eotvos, Marin Alsop, Gregory Vajda and Michalis Economou. She became the latter's assistant as a laureate of the special Malta International Conducting Masterclass & Competition. At the turn of December and January 2019/20, as an assistant conductor, she went on a New Year's China tour with the Athens Philharmonia Orchestra, where she had the opportunity to conduct one of the eleven concerts held there. Other bands with whom she has had the opportunity to cooperate so far also include the Opole Philharmonic, Lower Silesian Philharmonic, Collegium F Orchestra and the Symphony Orchestra of the Academy of Music in Poznan. During the next concerts planned by the Torun Symphony Orchestra, she will work under the supervision of Deputy Artistic Director Dainius Pavilionis.
Agata Zajac, phot. material TOS
Already today you can see Agata Zajac at the conductor's stand during the concert "Viva Mozart". The artist will perform with the Torun Symphony Orchestra. The program includes: overture to the opera The Magic Flute KV 620 and Piano Concerto No. 21 in C major KV 467, the soloist will be the Ukrainian pianist Andrii Dorofeiev, currently a student of Katarzyna Popowa-Zydron. He became famous, among others the fact that he was the first Ukrainian pianist to record "Passacaglia" by Leopold Godowski on the introduction to the 8th Symphony "Unfinished" by Franciszek Schubert (for the DUX label). The concert will be broadcast on Facebook and YouTube TOS channel.

Source: Ruch Muzyczny, © 2020 Polskie Wydawnictwo Muzyczne